Massage Therapy At
Fredericton Family Chiropractic: A Creating Wellness Centre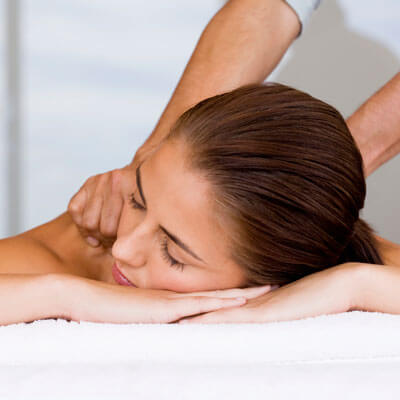 Here at Fredericton Family Chiropractic: A Creating Wellness Centre we work together as a team! Massage and Chiropractic care together often influences a faster more streamlined recovery, pain relief and prevention, diminishes stress and provides optimal athletic performance. Our client's health and wellness are our number one priority so utilizing the expertise of each practitioner in the clinic is vital to offering the best possible care.
What To Expect At Your Massage Appointment
Upon booking your massage you will receive a Welcome Letter and a Health History Questionnaire for you to fill out online. The day before your appointment you will receive an email and/or a text message reminding you of your appointment along with a wellness screening questionnaire.
Massage Intake Forms »

Make sure to hydrate before and after your appointment, wear loose clothing, and just breathe, we will do everything we can to give you a comfortable experience!
When you arrive at your appointment if you have insurance benefits, please have it ready to give to the front desk attendant. Be sure to communicate with your RMT as they tailor each treatment to their clients wants and needs.
You may feel some amount of discomfort 24-48 hrs after your treatment, the RMT will give you some at home care to help.
Techniques We Use
Relaxation helps to reduce stress and anxiety. Usually, full body with a light to moderate pressure.
Deep Tissue also known sometimes as a Swedish Massage is used to release deep muscle tightness due to things like repetitive motion, driving, and long periods of time working over a computer. A focused treatment to those with injury, chronic pain, and general tightness using moderate to firm pressure.
Trigger Point is used to bring increased blood flow to an area to help release "knots" in specific areas. Direct deep pressure is used.
Sports Massage is used to focus on muscles used sports or in repetitive motions. Quick focused firm pressure is used.
Myofascial Release is used to break up connective tissue that causes overall tightness. Stretching and fascial work is used.
Lymphatic Drainage sometimes referred to as Gua Sha is used to manage fluid levels in the body. Very light touch is used to help remove waste and increase lymphatic fluid flow.
Prenatal Massage is used to reduce the pain and tensions of pregnancy. This massage is usually performed alongside myofascial release and lymphatic drainage. Light to moderate pressure is used.
Cupping is an ancient technique to stimulate blood flow and circulation through suction on the skin.
Who can benefit from Massage Therapy
Almost everyone can benefit from massage therapy from newborns to senior citizens. However, if you have a medical condition, you should consult your physician before seeing a massage therapist.
People who have had or who are:
Motor Vehicle Accident
Veteran of the Canadian Military
Pregnant
Workplace Injury
Musculoskeletal disorders due to stress, Muscular overuse, or Physical manifestation of mental distress
Persistent pain syndromes
Anxiety and/or depression
Anyone who feels that massage would work for them but are not sure of what treatment they should use should not worry. The massage therapist is trained to listen and produce a treatment for specific concerns.
FAQs
Why Massage at a Chiropractic Office?
Having a massage at Fredericton Family Chiropractic we have more of a medical focus on the body and how we can get yours moving and feeling its best. Having a massage done at a Chiropractic clinic allows a client the benefit of using both professions in one day rather than going to another location for their care.
What is the purpose of Massage?
Massage Therapy is manipulation of the muscles and soft tissues of the body using different pressure, movement and techniques. Your therapy will be done by one of our expert Massage Therapists that will first discuss with you any issues that you wish to address, before determining which type of massage will provide the best health benefits.
Massage Therapy has been proven to help with sleep, improve the immune system, lessen pain and muscle tension, relieve constipation, decrease fibromyalgia symptoms and can reduce stress and anxiety.
Contact Us
Reach out to us today to schedule an appointment with one of our Registered Massage Thearpists.
---
Massage Therapy Fredericton NB | (506) 472-7000